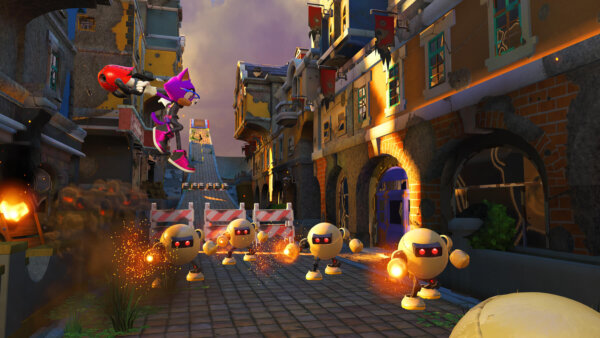 Sonic Forces and Sonic Mania Plus: Double Pack
TWO GREAT SONIC GAMES IN ONE!
Experience Classic and Modern Sonic in two great games — speed through rolling landscapes in all-new 2D adventures in Sonic Mania Plus, and create your own character to take back the world from the evil Dr. Eggman in the 3D adventure, Sonic Forces!
Sonic Forces:
Battle an all star line-up of foes including: Dr. Eggman, Zavok, Metal Sonic and Chaos, leading up to a fight against Sonic's most powerful enemy yet, Infinite. Catapult past perilous platforms as Classic Sonic
Create your own unique hero with hundreds of different accessories to choose from and share your character to fans around the world!
Speed through and fight hordes of robots as Modern Sonic, enjoy the fast paced side-scrolling action of Classic Sonic and run across iconic zones defeating enemies as your own Custom Hero.
Sonic Mania Plus:
A true, classic Sonic experience – Gorgeous pixel graphics featuring a variety of new Zones with iconic favourites from Sonic 1, 2, 3, Sonic & Knuckles and Sonic The Hedgehog CD.
Definitive version – Pixel-perfect HD visuals, 60 FPS gameplay and all new content in one package! Join Sonic and his friends as they face off against Dr Eggman and his new robo-henchmen the Hard Boiled Heavies!
New playable characters join the fun with Sonic – Seen in past Sonic titles, Mighty the Armadillo and Ray the Flying Squirrel join the Mania each with their own unique abilities!
All-new Encore mode – A new mode that adds a fresh look to familiar locations while challenging new and veteran players alike.
Additional information
| | |
| --- | --- |
| JB Hi-Fi | https://www.jbhifi.com.au/?q=sonic+double+pack& |
| EB Games | https://ebgames.com.au/nintendo-switch-246191-Sonic-Forces-and-Sonic-Mania-Plus-Double-Pack-Nintendo-Switch |