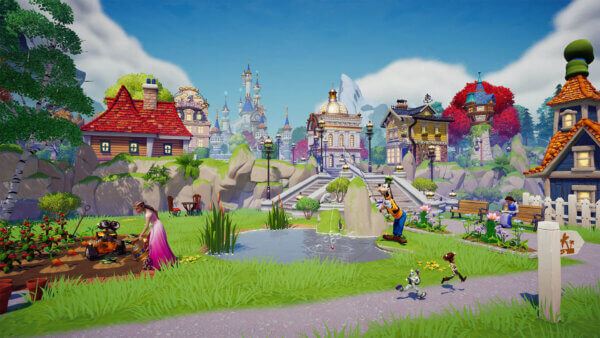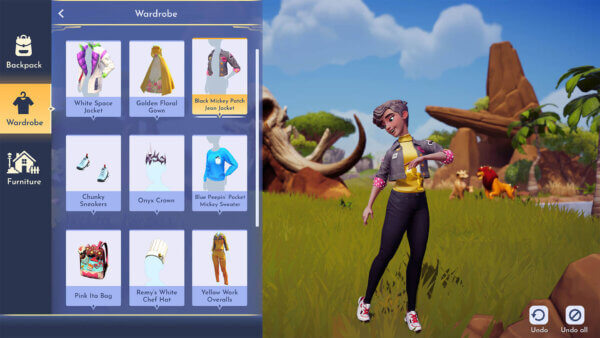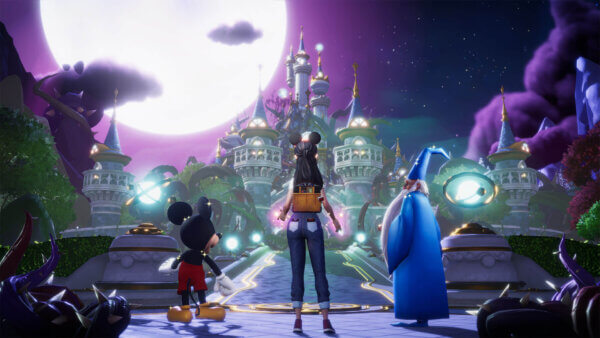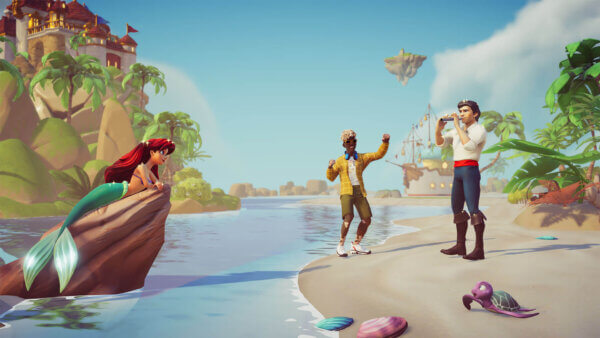 Disney Dreamlight Valley: Cozy Edition
Explore a world filled with the magic of Disney and Pixar! Discover rich stories while building the perfect neighbourhood alongside Disney and Pixar Characters.
Buy Now
Disney Dreamlight Valley is a hybrid between a life-sim and an adventure game rich with quests, exploration, and engaging activities featuring familiar Disney and Pixar friends. Once an idyllic land, Dreamlight Valley was a place where Disney and Pixar characters lived in harmony—until the Forgetting. Night Thorns grew across the land and severed the wonderful memories tied to this magical place. With nowhere else to go, the hopeless inhabitants of Dreamlight Valley retreated behind locked doors in the Dream Castle. Now it's up to you to discover the stories of this world and bring the magic back to Dreamlight Valley!
Disney Dreamlight Valley: Cozy Edition is an exclusive retail offering of Disney Dreamlight Valley featuring a sticker set, collectible poster, full access to the base game and exclusive digital bonuses.
Key Features:
Discover the Secrets of Dreamlight Valley: Free the Dream Castle from the insidious grip of the Forgetting and unlock the unique Realms of well-loved Disney and Pixar characters. Each Realm has its own challenges, with puzzles to solve and friends to bring back to Dreamlight Valley.
You'll start your adventure in the Valley and discover inspiring locations: Explore what lurks in the darkest corners of the Valley and brave the deepest caverns as you take on challenges from iconic Disney and Pixar heroes and villains. Who knows what—or who—you might discover.
Forge Friendships with Disney and Pixar Characters: Garden with WALL•E, cook with Remy or kick back and fish with Goofy. What better way to collect, craft, and rebuild the Valley than with a friend! From kind princesses to nefarious villains, every Dreamlight Valley resident brings their own story arc, quests, and rewards. Meet up for daily hangouts and make friends with some of your favourite Disney and Pixar characters.
Restore the Valley to Its Former Glory: Free the Valley from the grip of the Forgetting and return Dreamlight Valley to its former greatness by making it your own. In Dreamlight Valley, you can build the perfect neighbourhood that is just for you with a fully customizable layout, creative landscaping, and thousands of decorative items. Will you settle on the Beach next to Moana, or call Buzz Lightyear your next-door neighbour in the Plaza?
Express Your Disney Style: Bring out your inner princess, villain, or anything in between! Assemble unique outfits and decorate your home with thousands of fantastic items. Using the Touch of Magic tool, you can even create your own designs using Disney and Pixar motifs! With the in-game Camera, get ready to snap a sunset selfie with Mirabel, a culinary creation with Remy or simply cherish a moment.
A Game in Constant Evolution: New content means that there's always something fresh to explore. Meet new characters in the Valley, check out the latest clothing and furniture collections in Scrooge McDuck's Store, and complete challenging in-game events! Be sure to dream your way back to Dreamlight Valley regularly to discover new adventures!
Disney Dreamlight Valley: Cozy Edition includes:
1 of 6 exclusive Double-Sided Posters (while supplies last).
Exclusive Disney Dreamlight Valley Stickers (while supplies last).
Exclusive Digital Cheshire Cat Sweater (wearable in-game item for your avatar).
5 Exclusive Animal Companion Skins (in-game critter skins).
Cottage House (in-game house skin with an $18 AUD value).
14,500 moonstones (in-game currency with an $80 AUD value).
Standard Edition to Disney Dreamlight Valley.
All in-game items have an approximate value of $125 AUD!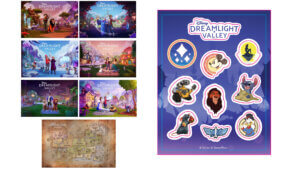 * The Nintendo Switch version of the game is a Code in a Box voucher, does not include a cartridge.  All other platforms (PlayStation 4, PlayStation 5, Xbox Series X/Xbox One) includes the game in-disc.

Additional information
| | |
| --- | --- |
| Official Site | https://disneydreamlightvalley.com/ |
| EB Games | https://www.ebgames.com.au/search?q=disney+dreamlight+valley |
| The Gamesmen | https://www.gamesmen.com.au/search?q=disney+dreamlight+valley |
| JB Hi-Fi | https://www.jbhifi.com.au/search?page=1&query=disney+dreamlight+valley&saleItems=false&toggleonPromotion=false |
| Amazon | https://www.amazon.com.au/dp/B0CGZVQ2TS?th=1 |
| Big-W | https://www.bigw.com.au/search?text=disney+dreamlight+valley |